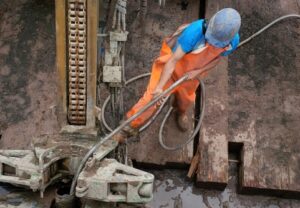 The management of Kingdom Construction Limited is totally committed to the health and safety of every employee. Our philosophy is that the well-being of our company depends on the health and safety of our workforce.
To enable us to keep our quality and production at the highest levels, we must ensure that the health and safety of our workforce is maintained at all times. To achieve this goal, we shall endeavour to develop, implement, and evaluate our health and safety program to be as effective as possible.
Supervisors are held accountable for the health and safety of workers under their supervision. Supervisors are responsible for ensuring that machinery and equipment are safe and that workers work In compliance with established safe work practices and procedures.
We ensure the safest possible work environment by requiring that all employees receive ongoing training in health and safety, by maintaining communications between management and our staff, and by leading through actions rather than words.
Violent or harassing behaviour is unacceptable from anyone and will not be tolerated. Management investigates and deals with all concerns, complaints, incidents of workplace violence and harassment in a fair and timely manner while respecting workers privacy as much as possible.
The responsibility to ensure a safe and healthy workplace is everyone's responsibility, from the president to the newly hired employee.
Regards,
KINGDOM CONSTRUCTION LIMITED
Gerald P. Landry, President