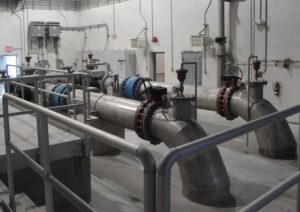 Our company specializes in municipal infrastructure construction. We construct new, as well as upgrade and expand existing water and wastewater treatment facilities. Our construction teams consist of dedicated project managers, proficient office personnel, project superintendents and supervisory staff, all supporting teams of in-house civil, mechanical, and electrical disciplines.
Our focus in the civil, mechanical, and electrical disciplines of municipal infrastructure construction has enabled us to provide a complete in-house turnkey solution to our clients. Our unionized labour force is represented by the Christian Labour Association of Canada (CLAC) whose multi-trade membership has a history of zero strike days and enjoys excellent wages and benefits.
We believe that a sound Health and Safety Policy provides the foundation for success and that safety is the responsibility of everyone. This philosophy is deep-rooted in our comprehensive health and safety program.
We are thankful for the strong relationships we have built with our clients and our experiences to date. We are also proud of the accomplishments of our growing team and we look forward with anticipation to continuing to create satisfied client relations and continuing to build our team of professionals.